What for?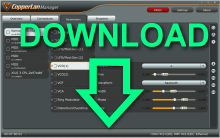 Installing the CopperLan package on your computer(s) will offer you many niceties:
Limitless networking between CopperLan and MIDI applications and hardware.
Connection management of an entire setup from one or more Manager instances (with setting replication).
Universal remote editing of parameters in any CopperLan target without specific drivers or libraries
Setup-wide snapshot and restore of all settings and connections
I own nothing CopperLan yet, so what's the point?
Even without any CopperLan compliant applications or hardware, CopperLan allows you to connect your MIDI equipment and applications in a way more flexible than ever before.
On each computer, CopperLan creates a set of virtual MIDI ports. These ports can be attached to your existing MIDI applications.
All of your existing MIDI equipment connected to the computer via USB, Firewire, or any other way, will be handled by CopperLan (the Manager's settings page allows you to validate for each interface, which MIDI input and output should be handled by CopperLan). Ultimately, each of these virtual and physical ports can talk to any other anywhere in the setup, and this on a MIDI channel basis.
You can thus map, remap and merge any channel from any place to any destination in as many computers you have connected together.
Of course, you can mix any number of MAC® and Windows® computers in a setup.
CopperLan works through Wi-Fi too. This won't give you the same performance as with cabled Ethernet. However, it might do the trick quite well for remote controlled editing.
The snapshot feature allows you to store in one click the configuration of an entire setup (encompassing all computers).

The following setup ...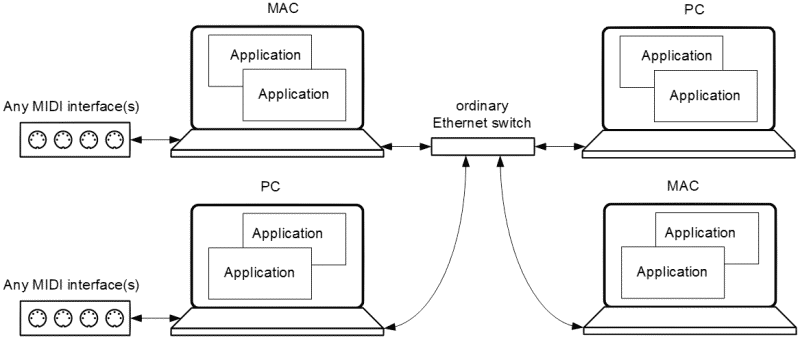 ... could actually result in the following connections: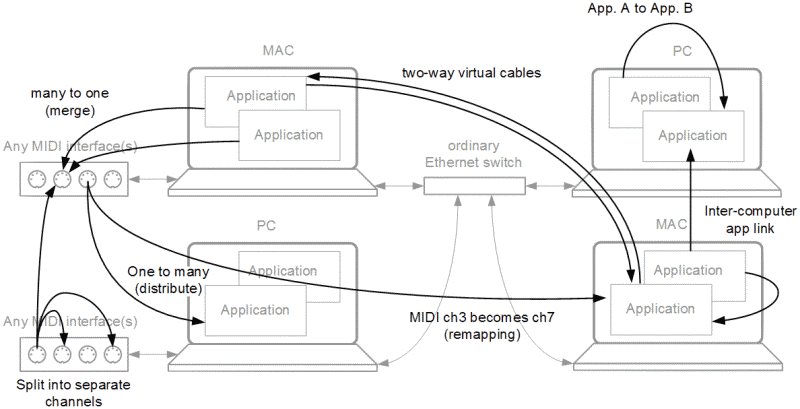 Specifications of the CopperLan package
Works on MAC-OSX® (x86 versions), and Windows® (XP, Vista, Seven & 8 - all 32-bit and 64-bit versions) Single click install (Virtual MIDI drivers, CopperLan Virtual Network Manager, Manager application) Clean de-installation and intelligent update features. Inter-computer communication (MAC + PC) via Ethernet, without needing IP or DHCP
(CopperLan on Ethernet is IEEE802.3 compliant, registered on IEEE as 8927h Ethertype) Transparent/harmless to IP protocols (e.g. Web browsing, E-mail, audio streaming, etc.) Communicates through ordinary Ethernet switches; passes through Wi-Fi and VPN Zero configuration network system (MAC + PC) Automatic detection and handling of MIDI hardware interfaces
(standard ones as well as those relying on manufacturer supplied drivers) Creates virtual MIDI ports to connect to standard MIDI applications
What else?
The CopperLan package is available for download free of charge. Your feedback in the forum about the Manager is very welcome.
Air Jordan